Top 10 Parks in Cape Town
Cape Townians are spoiled for choice when it comes to outdoor activities. Beaches, forests, mountains, as well as lush green parks. And all of these are tucked away within the city borders! Meet friends for a picnic, go for a walk with your four-footed friend, or simply pause to enjoy nature.
We've searched high and low to hunt down the bests parks for you to enjoy.
#1 The Company's Garden
Size: 8.5 hectares
Queen Victoria Street (top end of Adderley Street) | City Centre
Opening hours: daily: summer 07:00 – 19:00, winter 07:00 – 18:00
This beautiful park in the city centre is a heritage site. It dates back to the 1650's, when the European settlers needed to grow fruit and vegetables to stock up the ships that passed through on their travels. It's close to the South African parliament and within the grounds there are various museums to visit including the National Art Gallery and SA Museum. There are historical gems scattered throughout such as a fish pond, aviary, and rose garden.
#2 De Waal Park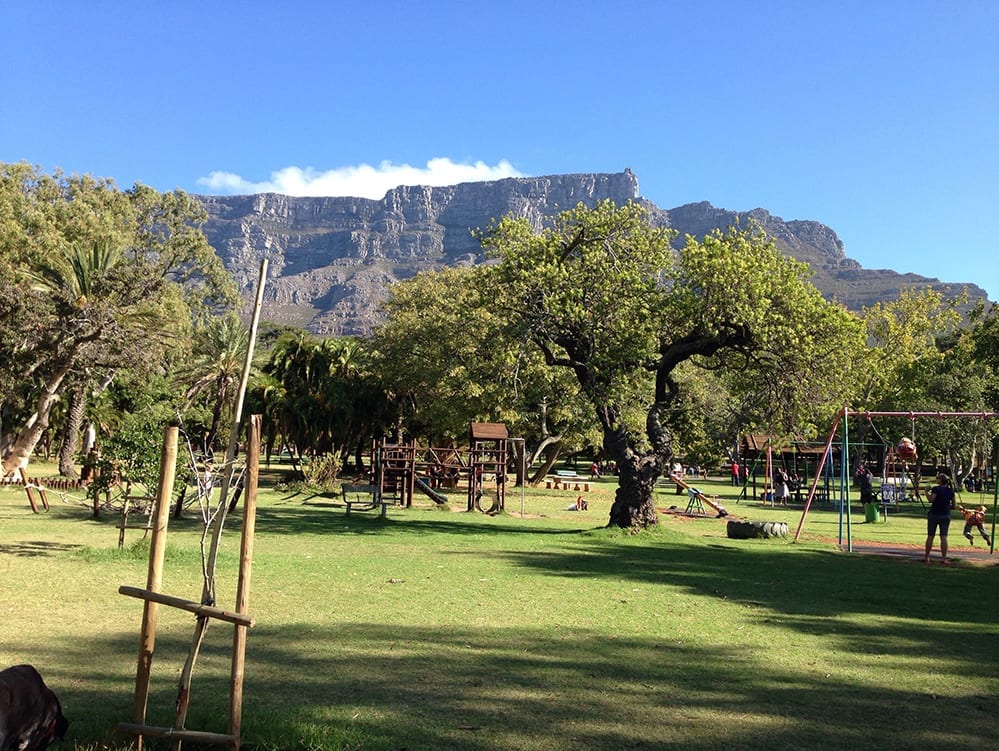 https://www.instagram.com/p/BnOWBGMALD7/?tagged=dewaalpark
Size: 11.7 hectares
Upper Orange Road| Gardens
Opening hours: daily 08:00 – 18:00
Another beautiful park in the heart of the city, located in the City Bowl. It's a popular spot for dog owners and great for kids with a fun playground. The stylish Victorian fountain adds an old-world feel to the park. In the summertime music concerts are hosted on Sundays.
#3 The Green Point Urban Park
Size: 10.5 hectares
Cape Town Stadium | Green Point
(can be accessed either from Beach Road (M6) or Bay Road, Mouille Point)
Opening hours: daily 07:00 – 19:00
This amazing space was created in 2011, just after the Soccer World Cup. There are pathways meandering around the expansive green lawns and little biodiversity nurseries filled with interesting plants. Follow the routes to complete a walking, running or cycling circuit. Spot the kilometre markers to keep track of your progress. Little outdoor training and gym circuits are the perfect way to combine fresh air and exercise. Pop in at the tea garden or pack your own picnic. You can either sit on the lovely green grass or at a picnic bench.
#4 Zandvlei Recreational Park
https://www.instagram.com/p/BmvINsEAPly/?tagged=zandvlei
Size: 159 hectares
Promenade Road | Muizenberg
Opening hours: daily 08:00 – 18:00
This wetland is bordered by the Muizenberg, Lakeside, and Marina da Gama residential areas. It's a stunning estuary with a river system meandering through it, located on the False Bay coast. The park is a popular recreational activities spot ideal for windsurfing, fishing, canoeing, and sailing. There are also braai and picnic spots located on the grassy areas next to the shores.
#5 Arderne Gardens
Size: 4 hectares
Main Street | Claremont
Opening hours: daily 09:00 – 16:00
This park includes a Japanese garden. The shady glades and romantic nooks make it a popular spot for wedding photographs. The park has a rich collection of exotic trees and shrubs. In 2003 over three hundred trees were labelled as part of the Cape Horticultural Society's Centenary Project.
#6 Rondebosch Park
Size: 1.9 hectares
Corner Campground Road & Sandown Roads | Rondebosch
Opening hours: daily 08:00 – 18:00
The park has lovely big trees creating green canopies over the pathways. The expansive lawns are perfect for picnics as well as open air events including craft markets and carols by candle light. Benches scattered next to the pathways are perfect to sit and take in the wide variety of flora in the park.
#7 Durbanville Rose Garden
Size: 1.5 hectares
Durban Road | Durbanville
Opening hours: daily 08:00 – 18:00
Another historical site in the city, with farm graves on the property. There are 500 different types of rose bushes to sniff and enjoy the beauty of. An outing to the park's Tea Room on Sundays is a must during flowering season.
#8 Wynberg Park
Size: 22.5 hectares
Corner Klaassens & Trovato Link Roads | Wynberg
Opening hours: daily 08:00 – 18:00
This park features the Krakeelwater river's spring. It has a gorgeous conifer garden, a colourful delight in spring and summer. There is an impressive playground, as well as duck pond to amuse the kids for hours. The little pathways meandering through the park is perfect for a walk, jog or doggy outing. Picnic and braai areas are located throughout the park for a delightful outdoor lunch. In the summer the park hosts concerts and fun days.
Just around the corner: Maynardville Park
An alternative park in the area, with rolling green lawns and trees, plus a great eco-system of birds. Visit the Maynardville open-air theatre in the summertime for a fun cultural outing. The park also includes a playground and water feature for the kids.
Size: 11 hectares
Corner Church & Wolfe Street | Wynberg
Opening hours: daily 8am – 6pm
#9 Khayelitsha Wetlands Park
Size: 3.3 hectares
Makhaza (between Lansdowne & Hlanga Roads) | Khayelitsha
Opening hours: daily 08:00 – 18:00
Perfect for a fun waterfilled outing. The eco-system is growing, with more and more birds calling it home. To create a more people-friendly area, the city has built a stunning playground for kids to enjoy, and creative African mosaic murals to entertain the adults.
#10 Westridge Park
Size: 15.8 hectares
Corner Morgenster & De Duin Avenue | Westridge | Mitchells Plain
Opening hours: daily 08:00 – 18:00
Tucked away in the suburb, the park has a variety of flora to enjoy including the famous indigenous Cape fynbos. Pathways meander through the park with expansive lawns inviting you to pause for a picnic. It's an ideal location for fabulous wedding photographs. A unique feature of the park is the skateboard ramp. Community concerts and festive events are hosted during the year.
Share the Park Love with Secret Cape Town
Remember to share your epic Instagram pics with us! Tag @secretcapetown or use #secretcapetown to be featured with our #guesswherecapetown.
https://secretcapetown.co.za/wp-content/uploads/2018/08/wynberg-park.jpg
640
640
Secret CT ED
https://secretcapetown.co.za/wp-content/uploads/2018/09/Secret-Cape-Town-Logo-Key.png
Secret CT ED
2018-09-20 12:40:43
2019-07-30 10:52:37
Top 10 Parks in Cape Town